The Pure Bred Party Animal
The mixed wheel Patrol has a new haircut but is still down for anything and truly unapologetic when it comes to shredding trail

Being one of the longest standing bikes in our lineup, it was the obvious choice to mix it up. Updated geometry to accommodate the 29" front / 27.5" rear wheels and revised suspension tune might just make you ride all day, and then all night. Jibbing, jumping, pumping and hooting your way down the trail, the updated Patrol loves to party. From bike parks to your local trails, the Patrol isn't concerned with where you ride but rather how much fun you are having.

GIDDY UP SUSPENSION DESIGN
We want to make it as easy as possible to experience great rear suspension performance. The GiddyUp suspension system is designed to behave intuitively across a broad range of setup. Because, we get it, sometimes you just want to grab your bike and GiddyUp, without checking your setup. When you do, it will always feel good.

With nearly 24% progression and the most current evolution of our GiddyUp suspension kinematic, the Patrol has an excellent balance of support and small bump sensitivity. Anti-squat is tuned to enhance pedaling performance and provides a platform to push against when pumping, without sacrificing a bottomless feel when needed.

The GiddyUp suspension layout is tuned to work correctly with both air and coil rear shocks. Riders are able to add or remove volume spacers in the rear air shock to suit their individual riding style and there is plenty of bottom out control with air or coil shocks when things get rowdy. The Patrol has 160mm of rear wheel travel when used with the supplied 205mm x 60mm stroke shock. It is also possible to install a longer, 205mm x 65mm stroke shock to increase the rear wheel travel to 170mm if you are after a longer travel experience.

A suggested sag range of 27 - 33% allows the rider to tune the feel of the bike; from a firm and snappy jump and slash mode, to a more supple and active full on party mode. Wherever you end up, you can focus on the trail without remotes, levers or knobs. Just grab your bike and GiddyUp.
Frame Specifications




REAR TRAVEL:

160mm (Compatible with 170mm)

FRONT TRAVEL:

160mm (Compatible with 170mm single crown fork or dual crown forks)

WHEEL SIZE:

29" Front / 27.5" Rear

SIZES:

SM, MD, LG, XL

COLORS:

Blueberry, Raw

FRAME BEARINGS:

2x 6903, 2x 6902, 4x 6802, 2x 3802, 2x 6900

FORK AXLE TO CROWN:

574mm at 160mm (Includes headset)

FORK OFFSET:

44mm

REAR SHOCK SIZE:

205mm x 60mm (Compatible with 205mm x 65mm)

SHOCK HARDWARE:

Trunnion Mount Top / 30mm x 8mm Bottom

HEADSET (TOP):

56mm Zero Stack

HEADSET (BOTTOM):

56mm Zero Stack

BB SHELL:

73mm BSA Threaded

CHAINLINE:

52mm

REAR BRAKE MOUNT:

180mm Post Mount, Max Rotor Size 223mm

Derailleur Hanger:

SRAM UDH spec

REAR AXLE:

Syntace X12 148, 1.0mm Thread Pitch

ISCG TABS:

ISCG05

SEATPOST DIAMETER:

31.6mm

SEAT CLAMP:

34.9mm

MAX SEATPOST INSERTION:

Small 200mm | Medium 230mm | Large 270mm | X-Large 300mm

MAX CHAINRING SIZE:

34T Standard Single Ring (Based on 52mm Boost Chainline)

MAX TIRE SIZE:

27.5 x 2.6

REAR SHOCK SAG:

160mm/60mm: 16-20mm (27-33%)
170mm/65mm: 18-22mm (28-34%)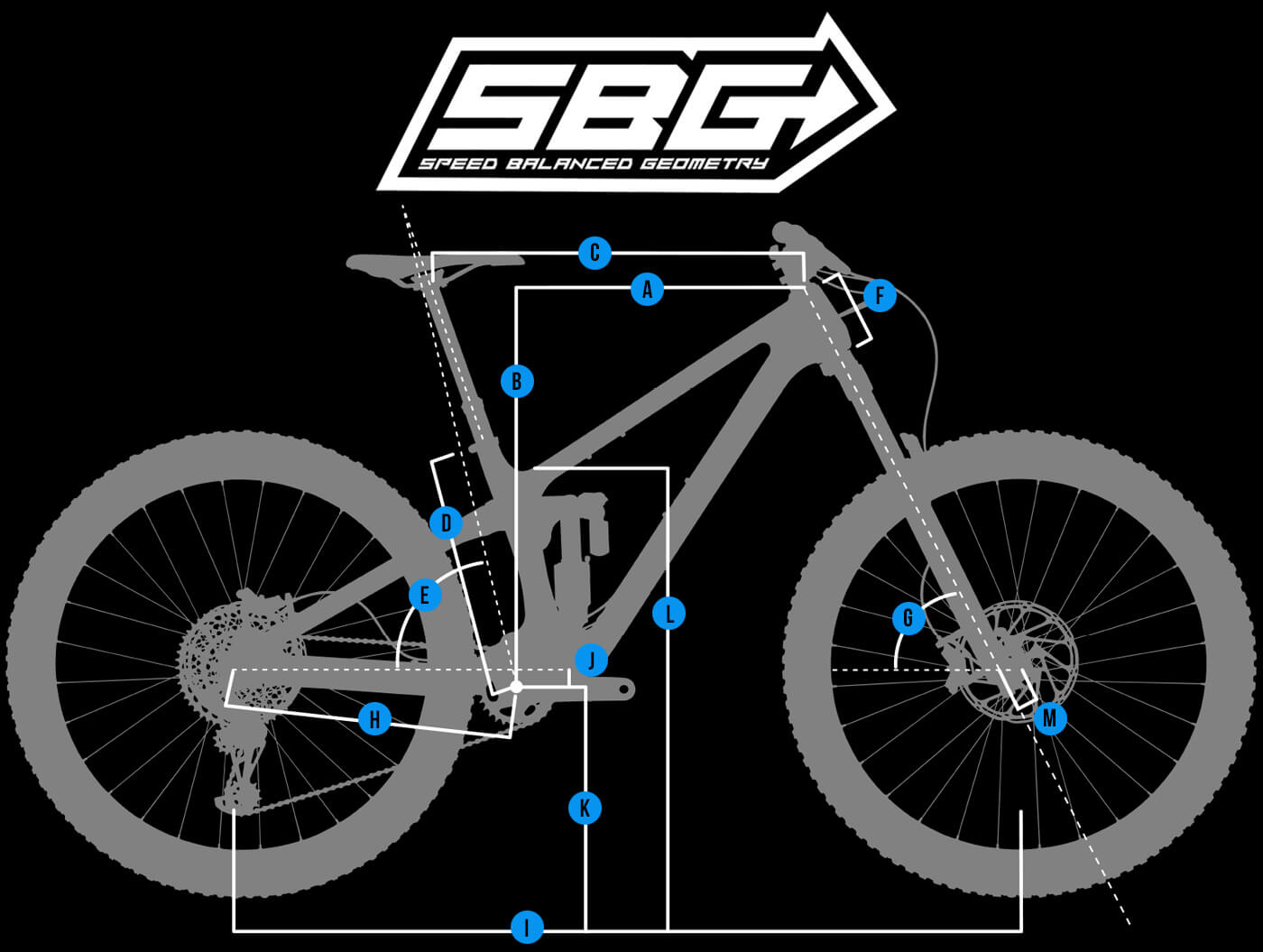 Speed Balanced Geometry

SBG ensures the bike maintains low speed agility, front wheel traction, and proper rider weight balance while actually increasing confidence in steep terrain and at high speeds. With SBG, a slacker head tube angle is combined with a all new reduced offset fork standard, preventing the front wheel from being too far in front of the rider. This improves front to rear weight distribution on the bike, which is often out of balance on long and slack bikes. One of SBG's greatest benefits is that it creates a confident steering feel that adapts to wheel speed. More stability when going fast, more agility on technical slow speed maneuvering as well as improved traction, control and confidence for any skill level of rider.
 

SM
HIGH/LOW

MD
HIGH/LOW

LG
HIGH/LOW

XL
HIGH/LOW

 

REACH

420 / 415

455 / 450

480 / 475

510 / 505

 

 

STACK

623 / 628

623 /628

632 / 637

641 / 646

 

 

EFFECTIVE TT LENGTH

540 / 543

575 / 578

603 / 606

636 / 639

 

 

SEAT TUBE LENGTH

360

390

430

460

 

 

EFFECTIVE ST ANGLE

79.6° / 79.1°

78.8° / 78.3°

78.1° / 77.6°

77.5° / 77°

 

 

SADDLE HEIGHT FOR EFFECTIVE ST ANGLE

600

660

720

780

 

 

HEAD TUBE LENGTH

100

100

110

120

 

 

HEAD TUBE ANGLE

63.5° / 63°

63.5° / 63°

63.5° / 63°

63.5° / 63°

 

 

CHAINSTAY LENGTH

434 / 436

434 / 436

440 / 442

440 / 442

 

 

WHEELBASE

1196 / 1198

1231 / 1233

1266 / 1268

1301 / 1303

 

 

BOTTOM BRACKET DROP

15 / 22

15 / 22

15 / 22

15 / 22

 

 

ESTIMATED BB HEIGHT

340 / 333

340 / 333

340 / 333

340 / 333

 

 

STAND OVER HEIGHT

675 / 685

690 / 700

705 / 715

720 / 730

 

 

FORK OFFSET

44

44

44

44

 

 
 SPECIFICATIONS
DEORE XT                            GX EAGLE                            DEORE                          FRAME
FRAME

Patrol Alloy 160mm

Patrol Alloy 160mm

Patrol Alloy 160mm

Patrol Alloy 160mm

REAR SHOCK

Fox Float X2 Factory
2 Position (205x60)

RockShox Super Deluxe
Ultimate Air (205x60)

Fox Float X Performance
2 Position (205x60)

Fox Float X2 Factory
2 Position (205x60)

FORK

Fox Float 38 Grip 2 Factory
160mm Travel/44mm Offset

RockShox ZEB Ultimate
160mm Travel/44mm Offset

Marzocchi Bomber Z1 Air
160mm Travel/44mm Offset

 

HEADSET

FSA NO.55R/57

FSA NO.55R/57

FSA NO.55R/57

FSA NO.55R/57

STEM

ANVL Swage (40mm)

ANVL Swage (40mm)

RaceFace Aeffect R (40mm)

 

HANDLEBAR

ANVL Mandrel Alloy 35
SM (800x20) MD/LG/XL (800x30)

ANVL Mandrel Alloy 35
SM (800x20) MD/LG/XL (800x30)

RaceFace Chester 35
SM (780x20) MD/LG/XL (780x35)

 

GRIPS

Sensus Lite

Sensus Lite

Sensus Lite

 

SADDLE

ANVL Forge Cromo

ANVL Forge Cromo

ANVL Forge Cromo

 

SEATPOST

OneUp Dropper Post

OneUp Dropper Post

OneUp Dropper Post

 

BRAKES

Shimano XT M8120

SRAM Code RSC

Shimano Deore M6120

 

ROTORS

Shimano RT86 (203mm)

SRAM Centerline (200mm)

Shimano RT70 (203mm)

 

SHIFTER

Shimano XT M8100

SRAM GX Eagle

Shimano Deore M6100

 

DERAILLEUR

Shimano XT M8100

SRAM GX Eagle

Shimano Deore M6100

 

CASSETTE

Shimano XT M8100 (10-51t)

SRAM XG 1275 (10-52t)

Shimano Deore M6100 (10-51t)

 

CHAIN

Shimano XT M8100

SRAM GX Eagle

Shimano Deore M6100

 

CHAINGUIDE

OneUp Bash Guide

OneUp Bash Guide

OneUp Bash Guide

 

CRANK

Shimano XT M8100 (32t/165mm)

SRAM GX Alloy DUB (32t/165mm)

RaceFace Aeffect R (32t/165mm)

 

RIMS

DT Swiss EX 1700 Spline 30

Stans Flow S1

Stans Flow D

 

SPOKES

DT Swiss Competition

Sapim Race Double Butted

Pillar Double Butted

 

HUBS

DT Swiss 350 Straight Pull 36SL

Stans Neo Durasync

Shimano MT410-B

 

TIRE/FRONT

Schwalbe Magic Mary, Super Trail, Soft (29x2.4)

Schwalbe Magic Mary, Super Trail, Soft (29x2.4)

Schwalbe Magic Mary, Super Trail, Soft (29x2.4)

 

TIRE/REAR

Schwalbe Big Betty, Super Trail, Soft (27.5x2.4)

Schwalbe Big Betty, Super Trail, Soft (27.5x2.4)

Schwalbe Big Betty, Super Trail, Soft (27.5x2.4)

 

INCLUDED

Tubeless Valves & Stans Sealant (6oz)

Tubeless Valves & Stans Sealant (6oz)

Tubeless Valves & Stans Sealant (6oz)

 

WEIGHT

34.1 lbs / 15.69 kg (Size MD)

TBD

TBD

TBD